The first stirrings of Metamkine date back to 1987, when Jérôme Noetinger arrived in Grenoble to study under Xavier Garcia at Fontaine's Collectif de recherche électroacoustique et d'action musicale. Common interest in music and film brought him together with photographer Christophe Auger, filmmaker François-Christophe Marzal and musician Richard Antez to form Metamkine. They were interested in using compositional techniques from the studio in a live setting, as well as in developing new ways to work with music and image. In the initial performances, Auger and Marzal would project slides while Antez and Noetinger would play back pre-recorded compositions as accompaniment. The group began to evolve and they started using Super 8 projectors and live improvised music.
Marzal and Antez eventually left the group to continue their own respective careers in film and music. Xavier Quérel, who had attended Metamkine shows religiously as a university student, quickly moved to take their place. In 1991 he officially joined the group, creating the core trio that has continued to this day, with occasional expansions to include other projectionists and musicians. Within a few short years, the trio had made the two major discoveries that lie at the core of the live experience they create. They moved all the performers to the front stage and started developing all the film they would use in performance by hand, without the aid of a traditional film lab.
Before Quérel joined, their set-up was quite traditional, with the projectors in the back and the musicians on the stage. As their performances became more involved, they found that the audience would often crane their necks to see how the projectionists were creating the visual collages on screen. Moving everything to the front provided for a more performative presentation style and allowed the trio to interact more like musicians. As a result, the trio has built a strong improvisatory bond. In performance, the three of them are able to respond to each other instinctively, drawing the audience into an intimate experience. They treat the projectors like musical instruments, with Quérel and Auger able to quickly move from one to the other to keep up with the flow of the performance.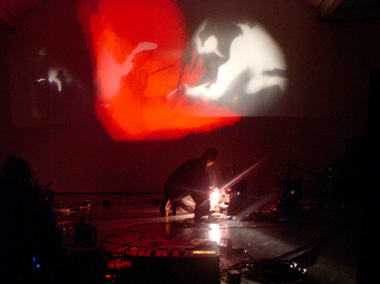 Their proximity within the performance space keeps them attentive to each other's movements. As Quérel states, "In performing live, we know each other, our styles; but it's always completely based on live improvisation … I am very sensitive to the other projectors, listening to what is happening … This relationship that you can have is really important." Noetinger, who performs regularly with Lionel Marchetti and MIMEO, amongst others, points out that the greatest difference in working with Auger and Quérel is that cinema creates a different sense of time. The pace is defined by the mechanical speed of the projector, which allows his musical responses to evolve at a slower speed. Otherwise, "when I'm working with Christophe and Xavier, I feel like they're just musicians."
When talking about their work, a key idea that the trio often brings up is the Situationist ideal of détournement. Coined by Guy Debord, détournement roughly translates into the idea of collage, putting two different things together to create something new and unintended. As Noetinger states, part of their art is "to show that the projector not only plays back the film, but it can be an instrument to act on directly. The image becomes just one part of it. It is like how I work with tape recorders. A tape recorder is meant to record music and play back in a certain way, but you can act on it in different ways. You can change its function to create something new. So, you can take something that is meant for a certain thing and play with it." Noetinger often uses two tape recorders, one to play back pre-recorded sounds and the other to build loops using both the playback and recording heads simultaneously.
ticket: 40 PLN
for festival pass holders: 20 PLN
The ticket includes entries to all concerts in the Festival Club on July 26.