The Lollipops is a reminder of the garage bands from the 1960s. The group shows how songs were before pop music was invented. The dense wall of guitar sounds, the pulsating section and the vocal of Kasia Staszko are the characteristics of the band. It is perhaps nostalgia for American wilderness and beaches of California that make the group so authentic, especially in concerts in smoky clubs. The band admits openly that they like playing loud music as it is a way to show the deep reverb effect of guitars and the songs' melodies. The Lollipops is also an echo of psychedelic moments and noise tricks of the New York stage.
The group has performed in clubs in Poland and at the HEINEKEN Open`er Festival 2010 in Gdynia. The turning point in the band's career was the performance on "White flag day" in Odnowa in Torun where the band met the producer Leszek BIOLIK. The result of this meeting was the single "Good girl" which was warmly received and stayed in the song charts of "Trójka" radio for 10 weeks. The group was invited twice to the "Offensywa" program on "Trójka" radio to perform live in the studio of Agnieszka Osiecka.
Information about the band appeared in the national press, including "MACHINA" and other Internet press editions. In September 2010, The Lollipops won first prize at the Gramy Festival in Szczecin.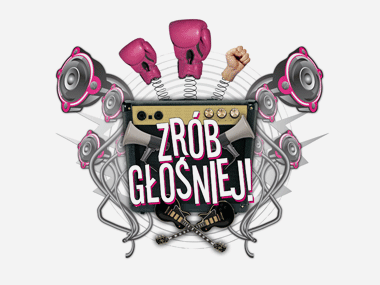 The concert of groups discovered during the 'Zrób to głośniej' (in English: Make It Loud) contest organised by the T-Mobile Music portal. 'Zrób to głośniej' is the amplifier set to the maximum for a career spring for those who are ready to leave basements and garages and take the plunge. The organisers do not seek for clever imitators or karaoke kings but for artists who show their own talent. Further information available at: www.t-mobile-music.pl