Jaga Jazzist have become something of a musical phenomenon in Norway since they started 15 years ago. Not only is this 9 piece instrumental band regarded as one of the most exciting and innovative in Norway, the members are all involved in other musical projects and have in one way or another contributed to almost every significant recording to come out of that part of the world in the last few years. It has been this strong involvement with different projects, and different musical styles and sounds which is the key to the unique sound of Jaga Jazzist. With no boundaries and an arsenal that includes trumpet, trombone, electric guitars, bass, tuba, bass clarinet, saxes, keyboards, vibraphone and a rack of electronics, Jaga Jazzist create timeless music. Melodic, hypnotizing, delicate and subtle.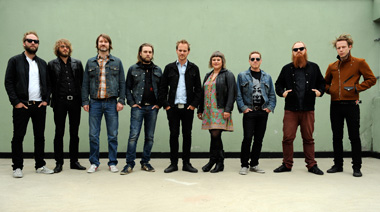 Their debut album was an international success. Jaga recorded the follow up titled "The Stix", their first for Ninja Tune. As with their first album it was produced by Norwegian superproducer Jřrgen Trćen the man behind Duper Studios in Bergen (home of Rřyksopp, Kings of Convenience, Sondre Lerche et.al.) but this time Jaga wanted to push their musical limits even further and really create a sound they could genuinely call "Jaga Jazzist ". It was the perfect balance between (hu)man and machine, and it never lost the organic nature of a live 10 piece.

After heavy touring next came their most radical "What We Must" album, the result of the band going into an isolated studio out in the Norwegian woods and recording the demo now known as the Spydeberg Session. Put down in one take in one day, it was a breakthrough moment for the group. A sound that was closer to their live sound than ever before. It was their rock album. But of course Jaga's own kaleidoscopic take on rock stylings, rolling from early 90s British shoegazer guitar pop to 70s prog rock, all shot through with Jaga's own unique logic.

And now this takes us to their 6th album, "One Armed Bandit", due for release in January 2010. Lars Horntveth began writing the music in early 2008. Alongside two new band members Řystein Moen-keys and Stian Westerhus-Guitar, JAGA rented A house in the Swedish forest to rehearse new material. It could be said that it was a reaction to "What We Must". It does include the rock stylings of "What We Must" and the electronics of "The Stix" but is still very much looking forward with a new sound. The breakthrough moment was the track "One Armed Bandit", the first single from the album of the same name. Taking influence from the afro-beat stylings of Fela Kuti but funneled through their own style. The Wagner-Esque fanfares and arpeggios are intended to sound like slot machines. And this Wagner meets Fela Kuti sound became a kind of theme of the album. In December 2008 the band went to Cabin Recorders to record the album with Jřrgen Trćen, a man who had been a big factor in forming Jaga´s music since A Livingroom Hush and the Stix, Unfortunately after 3 weeks Trćen got tinnitus. Jaga quickly thought of John McEntire of Tortoise fame. He was enthusiastic about mixing it and in April 2009, 3 members of the band went to Soma Studio in Chicago to mix the album.
ticket: 40 PLN
for festival pass holders: 20 PLN
The ticket includes entries to all concerts in the Festival Club on July 22.